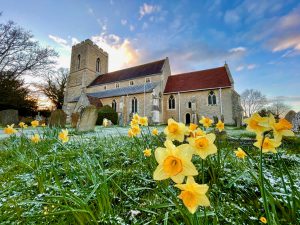 Welcome to St. Mary's Church, a warm and welcoming church family in Wavendon Village, Milton Keynes.
We are a growing and diverse community, embracing a wide range of Christian belief and and worship – both contemporary and traditional – and offering opportunity for diverse expressions of faith. We welcome people of all ages and denominations to join with us to worship God and encourage each other in our walk with Jesus Christ. If you want to get a flavour of our vision, click here.
We meet at 9.30am each Sunday, and also offer a weekly pre-recorded online service as well as Daily Inspiration Monday-Saturday. Our very popular coffee morning also happens every Thursday, 10am-12pm in church, and latest news and events can be found here.
The church also fosters and enjoys a close relationship with St. Mary's Church of England Primary School, on the new Eagles Rest estate in Wavendon.
We are very committed to the care and nurture of all in our church communities – for further details of our safeguarding policy and contact info, click through to our Partnership website here.
We look forward to meeting you!
Latest news
Dates for your diary
Our Harvest Service will be Sunday 1st October at 9.30am, and we'll be supporting the brilliant MK Can Fundraiser.
Monthly Prayer Walks
As a growing church community, we're already seeing the fruits of our prayer walks which took place between 2016 and 2020. We meet on the first Sunday of each month – next one Sunday 8th October – at 3pm outside the church. Please join us to continue our ministry of prayer for our newly established communities as well as the well established ones.
Thursday Coffee Morning
Weekly 10am-12pm. An opportunity to meet friends or make new ones over a hot drink and home-made cake. Now back after the summer break!