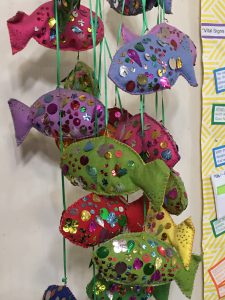 St Mary's offers Children's Church for children aged 3-11 on the first two Sundays of the month during the main Sunday service. We meet in the Community Centre (Village Hall) across the road from the church from 9.20am – so you can drop off your children before the service begins and then head into church. The children return to church just before the end of the service and show us what they've done!
During Children's Church, the children participate in worship through bible-based craft activities, discussion and prayer, and our leaders are trained and DBS checked.
Crafty Church for Kids
During the pandemic our Children's Church Leaders also produced online resources to help your children grow in their faith at home. Each Crafty Church session lasted 10-12 minutes and involved making something fun and learning about God at the same time. These sessions are still available: click on the following links to enjoy:
Remembrance, Advent, Christmas, Thankfulness, Binoculars, Snowflakes.